Topic: FIX YOUR PROPS... this thread will get you flying right!!!!
i got the home remedy for those props that come warped in the pastic flatpacks from parrot...
Even if you have a brand new drone straight out of the box and you are seeing some of the problems below... it probly sat in the back if a hot freight truck too long and the props sag... also seems to work on performance props from VGE
The following fix can solve the following problems:
*limited battery time (short flight times)
*video "jello" effect
*instability
*wandering .. unable to hold steady position at 1 meter altitude
*altitude drops every ten seconds like the motors cut out for a split second
*WON'T CLIMB/NO LIFT
*won't lift heavier batteries keeps bouncing off the ground
*severe altitude drop when coming to a stop from forward flight (won't solve it... makes it better)
*severe altitude drop after flip
i'll try to explain as best i can
first thing to check is the curve of the blade.. it needs the curve out at the tip, where the blade speed is fastest, to provide lift.. just like a plane wing
it should look like this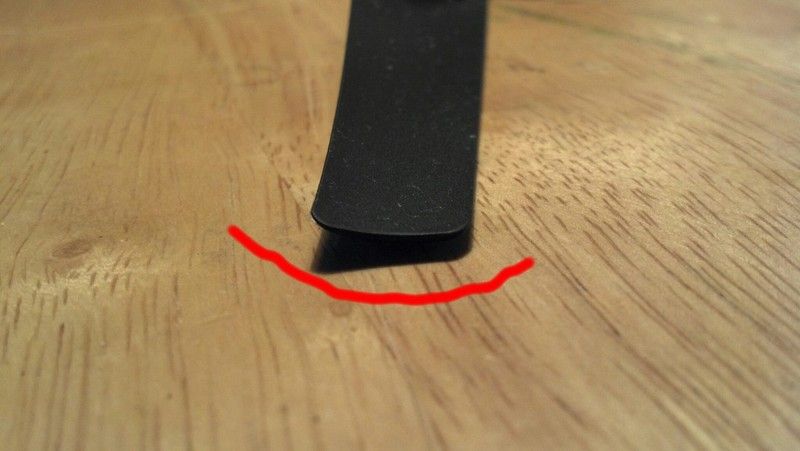 if it's flat... you can get the curve back by strapping to a curved surface and heating with a blowdryer on high heat and let cool... just worry about then last inch of blade or so... that larger inner surface "paddles" the air for lift... it works different.... a D size Mag-Lite flashlight is the perfect curve... or a 1.5 inch outside diameter pipe... like this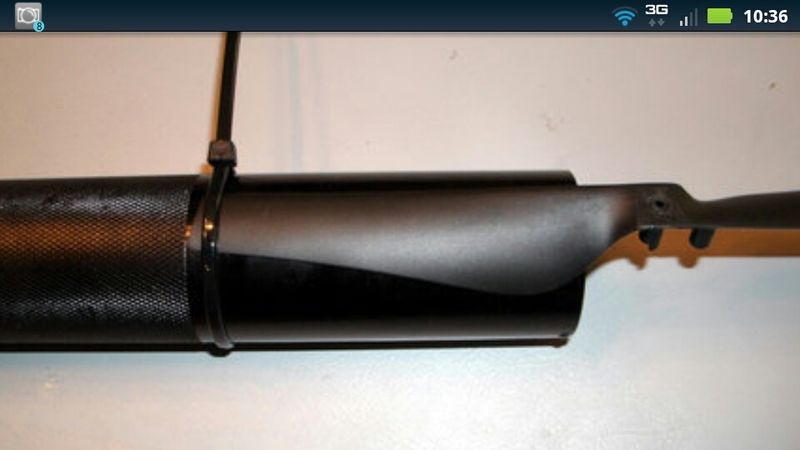 then you wanna get the bow out of the blade and get the pitch right... if your new blades are bowed like this.. you can still get it straight

you need a ruler and some clothes pins and rig yourself up something like this here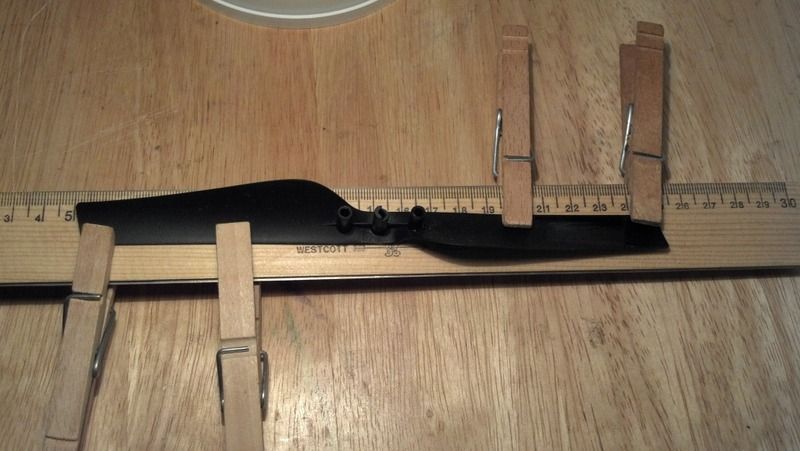 two clothespins on each end of the bade... one out at the tip and one about half way to take out the hump in the middle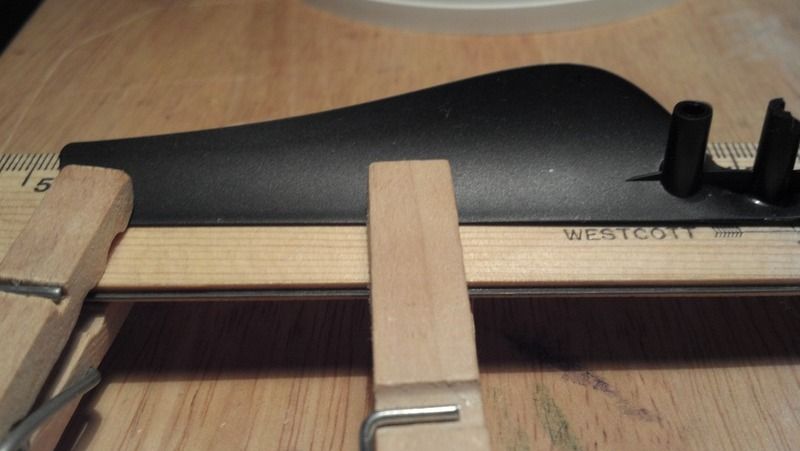 right on the leading edge of the blade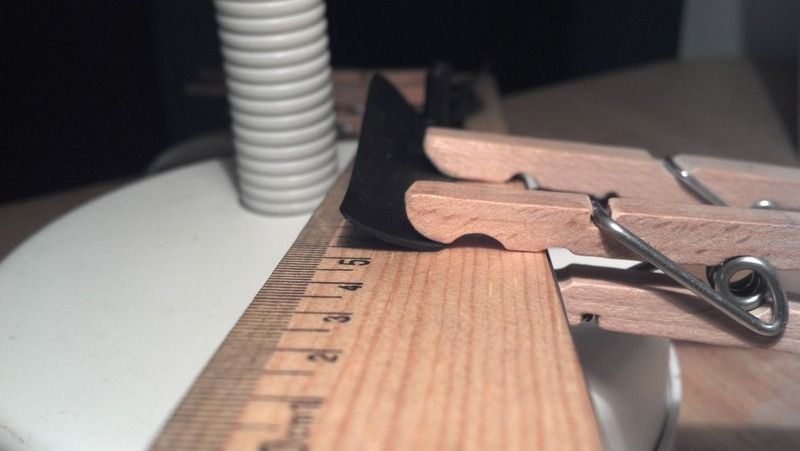 you only wanna pin down the leading edge of the blade where it slices into the air... if you pin down to far into the blade you will ruin the curve and lessen the pitch... if you just catch that front edge under the clothespin the back edge will pitch up and the angle of attack will take care of itself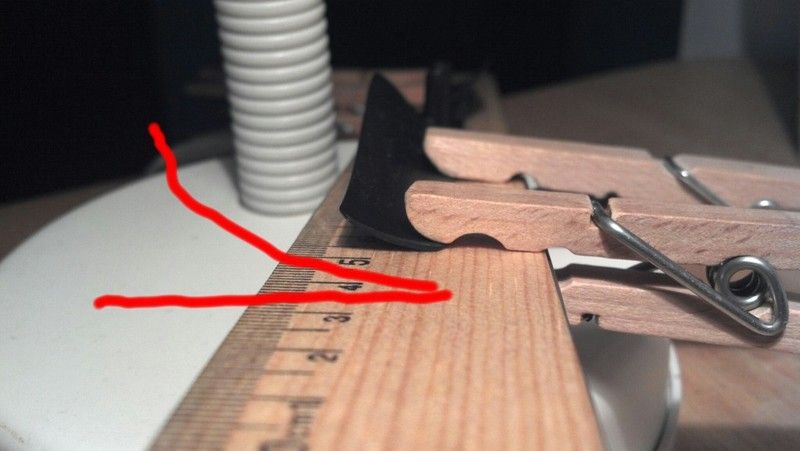 get it all pinned down and heat it up with a blowdryer on high heat for 3 to 5 minutes... let it cool to room temp and do it again... you might have to do it a few times to get the plastic to relax in this "good" position... but it works ya'll... i got three sets of blades fixed this way and i'm three for three... it's not like it ain't working on some of them... it even worked on the VGE performance blades... they fly good... they lift heavy batteries no problem... and the "drop altitude every ten seconds" problem goes away... and i had one REALLY BAD set that wouldn't even get 6 inches off the ground... they fly perfect now... PERFECT!!
then just balance them to get rid of vibration and your all new again!!!
Update: ......the next level.....
Idea from GadgetWarlock
Get a longer ruler... put a bow in the ruler to actually curve the props past straight... heat them for a lot less time... when they snap back they end up just right... and you can do two at a time... nice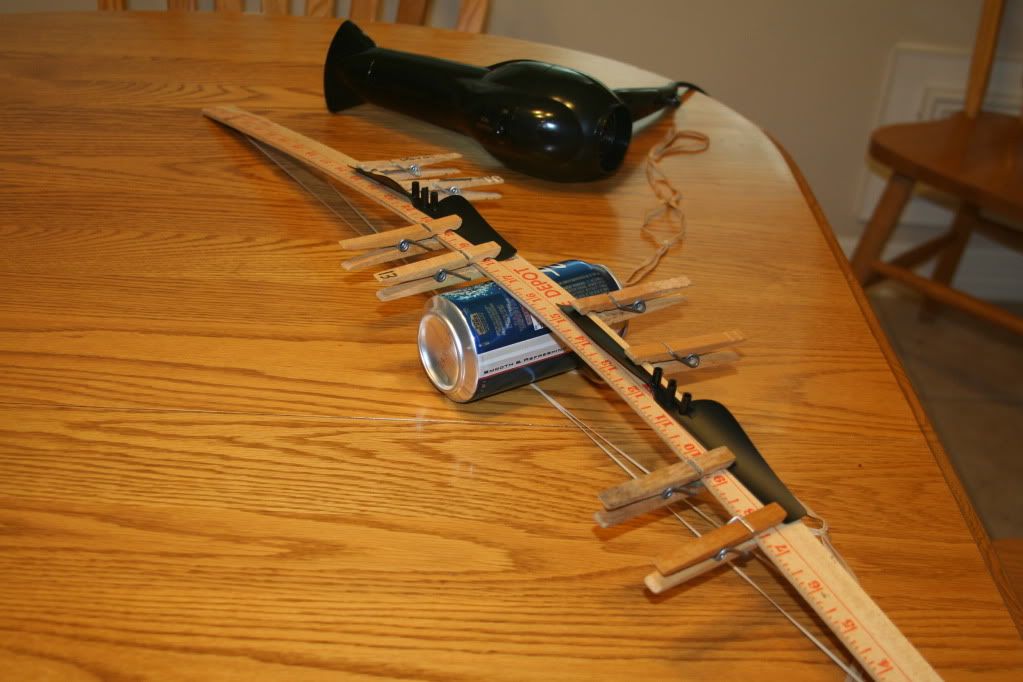 See his detailed description in comment 34 of this thread, page two...
UPDATE: .....the final level.....
This is for when you order new sets of props ahead of time.... make yourself some little jig clamps like these and clamp in your new props in place... leave them in the trunk of your car for a few days to go through a few heat cycles... then leave them in the clamps until needed...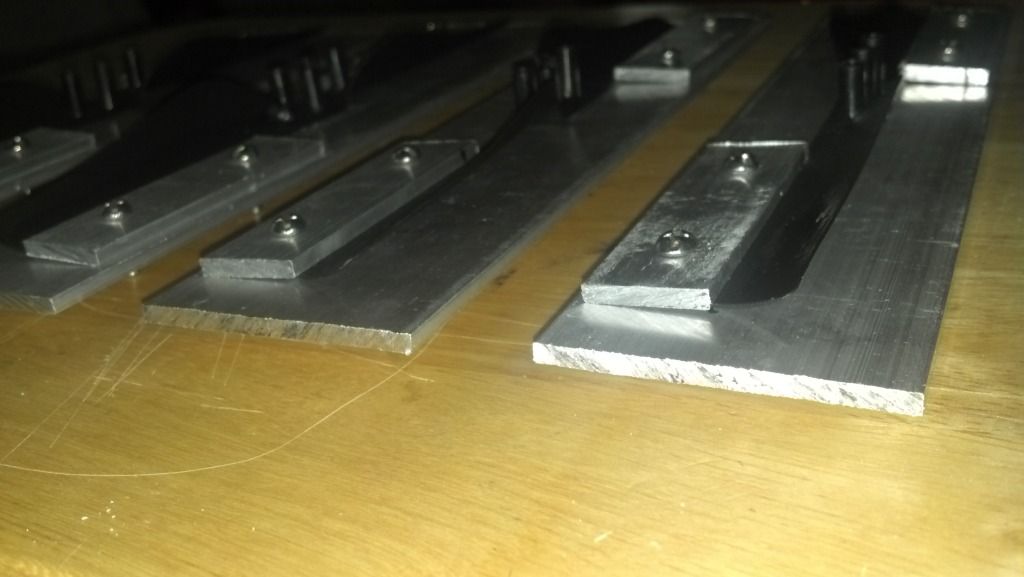 See the entire thread here
http://forum.parrot.com/ardrone/en/view … hp?id=5059
1.4mile (2.25kilometer) World Record AR.Drone 2.0 long range flight
December 16th 2012.................YouTube Link here